There are currently 114 stubs. You can help us by expanding these articles!
Crash Landed (video game)
From the Crash Bandicoot Wiki, the Crash Bandicoot encyclopedia
Jump to navigation
Jump to search
It has been requested that additional images be uploaded for this article. Remove this only when the image(s) have been uploaded for this article.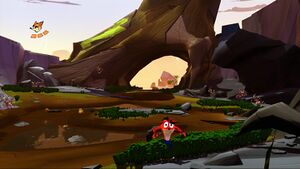 Crash Landed, also named I Am Crash Bandicoot, is a canceled Crash Bandicoot game that was being developed by Radical Entertainment shortly after the release of Crash: Mind over Mutant. Crash Landed started development for the Xbox 360 and PlayStation 3, and it would have been ported to the Wii afterward. The game was originally slated for a release in 2010. Crash Landed would have been accompanied by a racing game with the working title of Crash Team Racing, which was also canceled.
Pitches were being accepted for a Nintendo DS version. One of the contenders was Renegade Kid, who went as far as producing a playable demo as their pitch, and another was WayForward, whose pitch would eventually become the basis for Galactic Taz Ball.
In 2010, after about two years of development, Crash Landed was canceled by Radical Entertainment's parent company, Activision. At the time, Activision laid off many of its employees, which included Crash Landed's entire development team. Although Radical produced several concepts and animations for Crash Landed, the game had little gameplay to offer, which contributed to the reason for its cancellation.
External links
This article is a stub. You can help the Crash Bandicoot Wiki by expanding it.