There are currently 114 stubs. You can help us by expanding these articles!
Midway
From the Crash Bandicoot Wiki, the Crash Bandicoot encyclopedia
Jump to navigation
Jump to search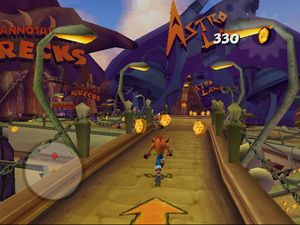 The Midway is the main hub area of Von Clutch's MotorWorld in Crash Tag Team Racing. It is where Crash Bandicoot can access the five other attraction areas: Mystery Island, Happily Ever Faster, Tyrannosaurus Wrecks, Tomb Town, and Astro Land. Each of the areas require a Power Gem in order to be accessed. At the start of the game, when Crash first enters the Midway, the first thing he does is take a Power Gem from a giant Von Clutch statue, allowing him to access Mystery Island.
A lot of humans are walking around the Midway, and Crash can bump into them for various reactions. The other playable characters are also found in the Midway, and throughout the game, they request Crash to retrieve their missing items, one in each attraction area. An item only appears in an area once Crash has talked to the corresponding character in the Midway. Whenever Crash unlocks another attraction area, he must talk to the characters again for their corresponding item to appear in that area.
Crash can play two minigames here, Von Clutch's Lanes and Critter Clobber. The former minigame can be played at a bowling alley, while the latter can be played from a stand called "The Penny Arcade".
Unlockables[edit]
Die-O-Ramas[edit]
Die-O-Rama 5: Mechanic Monday
Die-O-Rama 26: Tough Chicken
Die-O-Rama 30: Heavy Metal
Die-O-Rama 31: Big Bang Theory
Gag 7: Love Tester
Gag 9: Photo Booth