There are currently 114 stubs. You can help us by expanding these articles!
Eurocom Entertainment Software
From the Crash Bandicoot Wiki, the Crash Bandicoot encyclopedia
Jump to navigation
Jump to search
| | |
| --- | --- |
| | This article was originally from Bandipedia, whose content is licensed under the compatible CC-BY-SA license. |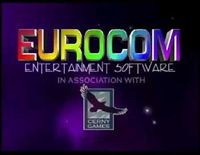 Eurocom Entertainment Software was a British video game company that developed Crash Bash in 2000, and ported Crash Bandicoot: The Wrath of Cortex to Nintendo GameCube in 2002. The company has been defunct since December 6, 2012. Eurocom is also known for other popular games such as Disney Universe, Dead Space, and Pirates of the Caribbean: At World's End.