There are currently 114 stubs. You can help us by expanding these articles!
N. Tropy Clock
From the Crash Bandicoot Wiki, the Crash Bandicoot encyclopedia
Jump to navigation
Jump to search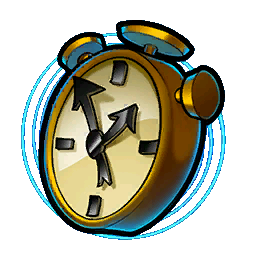 The N. Tropy Clock is an item from the Crash Bandicoot racing games. It first appears in Crash Team Racing. The N. Tropy Clock is a bronze stopwatch like those associated with N. Tropy from Crash Bandicoot: Warped.
If used, the N. Tropy Clock causes all opponents to spin out and slow down for a few seconds. While the opponents are slowed down, they can neither pick up nor use items. The juiced N. Tropy Clock power-up increases the duration in which the racers are slowed down.
In Crash Team Racing, racers who are under the effects of an Invincibility Mask are not affected by the N. Tropy Clock. The N. Tropy Clock also gets rid of any Power Shields, although those racers themselves are not directly affected. In Crash Nitro Kart, racers using an Invincibility Mask or a Power Shield are also affected by the N. Tropy Clock.
Gallery
[
edit
]