There are currently 114 stubs. You can help us by expanding these articles!
Traveller's Tales
From the Crash Bandicoot Wiki, the Crash Bandicoot encyclopedia
Jump to navigation
Jump to search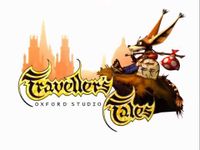 Traveller's Tales was a video game development studio from the United Kingdom, and they are a current subsidiary of TT Games. The first Crash Bandicoot game that they developed was Crash Bandicoot: The Wrath of Cortex. After this, their Traveller's Tales Oxford Studios division developed Crash Twinsanity. Their next game after Crash Twinsanity was Lego Star Wars: The Video Game, which is the first game that they released as TT Games. Since then, nearly every game from Traveller's Tales has been licensed Lego games developed by TT Games.
There are two different instances in which Traveller's Tales tried to create a Crash Bandicoot racing game. The first attempt was Crash Nitro Kart, but Universal Interactive handed over the project to Vicarious Visions.[1] A few years later, after Crash Twinsanity's release, the Oxford Studios division started development of Crash Clash Racing. For unknown reasons, Vivendi Games handed over the development to Radical Entertainment.[2] Around the same time, the Oxford Studios division planned Cortex Chaos, a game which never got past the concept stage.[3]
References
[
edit
]