There are currently 106 stubs. You can help us by expanding these articles!
Vicarious Visions
From the Crash Bandicoot Wiki, the Crash Bandicoot encyclopedia
Jump to navigation
Jump to search
| | |
| --- | --- |
| | This article was originally a deleted article from Bandipedia, whose content is licensed under the compatible CC-BY-SA license. |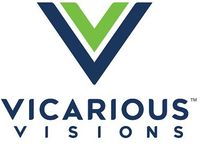 Vicarious Visions is an American game developer located in Menands, New York, United States. They are have developed some Crash Bandicoot games, starting with Crash Bandicoot: The Huge Adventure. They have also developed Crash Bandicoot 2: N-Tranced, Crash Nitro Kart, Crash Bandicoot Purple: Ripto's Rampage (and its counterpart, Spyro Orange: The Cortex Conspiracy), and Crash Bandicoot N. Sane Trilogy. They are also responsible for Crash's appearance in Skylanders Imaginators.
Vicarious Visions have also developed few other Crash related materials, including:
Gallery