There are currently 114 stubs. You can help us by expanding these articles!
Crash Bandicoot 2: N-Tranced
From the Crash Bandicoot Wiki, the Crash Bandicoot encyclopedia
Jump to navigation
Jump to search
Crash Bandicoot 2: N-Tranced is a direct sequel to Crash Bandicoot: The Huge Adventure. Like its predecessor, the game was released for the Game Boy Advance. Crash Bandicoot 2: N-Tranced was developed by Vicarious Visions and published by Universal Interactive in 2003.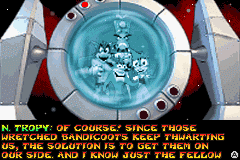 Deep in the heart of hyperspace, Uka Uka complains about Doctor Neo Cortex's incompetence, and how his last scheme to shrink the Earth failed miserably. He now trusts Doctor Nefarious Tropy with the task of aiding him in universal domination. N. Tropy sees into the future as phase one in his new scheme. He sees himself standing among the Bandicoots, and concludes that since the Bandicoots keep thwarting them, their only solution is to bring them to their side. With this, he recruits N. Trance, a master of hypnotism.
Meanwhile, back on N. Sanity Island, Crash Bandicoot sleeps away while his friends, Crunch and Coco are abducted by a strange vortex. Aku Aku alerts Crash of the situation and tells him to bring him a Power Crystal so that he can see into what's going on. But when he does, Crash begins to be sucked in by the vortex. While Aku Aku tries to rescue Crash, he uses the Power Crystal's power to discover that N. Tropy is behind this. With the last of his power, he rescues Crash. N. Tropy ends up creating a strange character named Fake Crash,[1] but he doesn't seem to notice. He has N. Trance successfully hypnotize the Bandicoots into doing his every whim.
Meanwhile, somewhere else in hyperspace, Crash and Aku Aku plan to collect more Power Crystals so that Aku Aku can open more areas of hyperspace, free Coco and Crunch, and foil N. Tropy's plan. Crash frees Crunch after a battle in the skies, and Coco is freed after a battle inside a volcano After Crash defeats Fake Crash, N. Tropy realizes that what they captured the wrong Crash. N. Trance ensures N. Tropy that the Bandicoots will never find their hideout. With a few more Power Crystals, Crash and Aku Aku enter the hideout. When Crash and Fake Crash defeat N. Trance, N. Tropy flees into one last vortex. Crash defeats N. Tropy after a long and tough battle. With N. Tropy's defeat and capture, Aku Aku decides they should take a picture to celebrate. The Bandicoots group around N. Tropy and the picture is taken by Fake Crash. This turns out to be the future N. Tropy saw. Meanwhile, Uka Uka is upset over N. Tropy's defeat, and promises a tougher adversary in the future.
Chronology placement
[
edit
]
N-Tranced is set after the events of The Huge Adventure. One character who appears in the game, Crunch Bandicoot, has appeared earlier in The Wrath of Cortex. Despite appearing in the game, N-Tranced does not lead directly to the events of the fifth mainline game Twinsanity (despite appearing as cameo); due to its possible plot changes and circumstances, both N-Tranced and The Huge Adventure take place in alternative narrative following the first four games from the main series. The next game for Game Boy Advance, a crossover with Spyro franchise, is set after those Crash games.
Gameplay
[
edit
]
The gameplay is similar to the game's predecessor, Crash Bandicoot: The Huge Adventure. Crash is the main and playable character, and similar to Crash Bandicoot: Warped, there are a few levels for Coco, all of which occur in outer space, and some for Crunch, all of which involve him moving around in a ball.
Crash can jump, spin, do a Body Slam, slide across the ground, and crawl to get past low areas. After defeating a boss, Crash obtains a new Super Move. Crash starts the game with six lives. He loses a life if he is hit by either an enemy or obstacle or falls down a pit. Collecting 100 Wumpa Fruits or collecting a head from a Crash Crate grants Crash, Coco, or Crunch an extra life. Crash has an additional hit point if he is with Aku Aku, and breaking a second Aku Aku Crate turns Aku Aku gold. Collecting three of these masks allows temporary invulnerability except for falling into a pit.
Much of the game takes place in a dimensional bubble that Crash and his mentor Aku Aku are trapped in. The inside of the bubble is displayed as a map with portals to different levels. Connecting the portals are dotted lines which Crash can use to travel between portals; initially, only a few dotted lines are visible. The goal of each level is to find and obtain any Crystals and Gems within the area. As more Crystals are retrieved from the levels, more dotted lines become visible on the map, allowing for further exploration. Gems allow access to special levels that are necessary to complete the game. After completing a level, Crash can re-enter it and touch a stopwatch to start a Time Trial. If Crash manages to complete it on time, he is rewarded a Relic. Once Crash has defeated every boss and has collected every Gem, Crystal, and Relic, the game is completed.
Controls
[
edit
]
Control Pad: Move
A: Jump
B: Spin
L (when held): Turbo Run
L + A: Rocket Jump
L + R: Super Slide
This section is a stub. You can help the Crash Bandicoot Wiki by expanding it.
Area 1
No.
Level
Collectibles
Crates
Relic times
Theme
1
Island Intro
23
Sapphire: 0:26.40
Gold: 0:24.00
Platinum: 0:12.80
Volcanic island
2
Prints of Persia
29
Sapphire: 0:36.20
Gold: 0:32.90
Platinum: 0:28.90
Arabian
3
Lagoony Tunes
49
Sapphire: 1:20.70
Gold: 1:13.40
Platinum: 1:05.70
Wakeboarding
4
Globe Trottin'
112
Sapphire: 0:45.20
Gold: 0:41.10
Platinum: 0:31.50
Atlasphere
5
Pharaoh's Funhouse
54
Sapphire: 0:33.40
Gold: 0:30.40
Platinum: 0:18.80
Egyptian
6
Runaway Rug
62
Sapphire: 1:01.80
Gold: 0:56.20
Platinum: 0:47.60
Arabian
Boss fight: Evil Crunch
Arabian
Area 2
7
Tiki Torture
57
Sapphire: 0:27.40
Gold: 0:24.90
Platinum: 0:19.60
Volcanic island
8
Hoppin' Coffins
71
Sapphire: 1:04.50
Gold: 0:58.60
Platinum: 0:40.70
Egyptian
9
Barrel Roll
101
Sapphire: 1:18.30
Gold: 1:11.20
Platinum: 1:07.00
Atlasphere
10
Flockful of Seagulls
30
Sapphire: 1:23.50
Gold: 1:15.90
Platinum: 1:12.50
Wakeboard
11
Magma Mania
73
Sapphire: 1:00.10
Gold: 0:54.60
Platinum: 0:44.60
Volcanic island
Boss fight: Evil Coco
Volcano
Area 3
12
Run From the Sun
21
Sapphire: 1:45.50
Gold: 1:35.90
Platinum: 1:31.10
Outer Space
13
Now It's Istanbul
92
Sapphire: 1:10.60
Gold: 1:04.20
Platinum: 0:58.30
Arabian
14
Mister Lava Lava
89
Sapphire: 1:04.00
Gold: 0:58.20
Platinum: 0:50.90
Volcanic island
15
Water Logged
23
Sapphire: 0:58.10
Gold: 0:52.80
Platinum: 0:46.10
Wakeboarding
16
Slip-N-Slidin' Sphinx
91
Sapphire: 0:53.80
Gold: 0:48.90
Platinum: 0:43.50
Egyptian
Boss fight: Fake Crash
Egyptian
Area 4
17
Rocks Can Roll
114
Sapphire: 1:10.40
Gold: 1:04.00
Platinum: 0:55.70
Atlasphere
18
Rock the Casaba
109
Sapphire: 1:20.90
Gold: 1:13.50
Platinum: 0:58.90
Arabian
19
Eruption Disruption
108
Sapphire: 1:05.90
Gold: 0:59.90
Platinum: 0:50.30
Volcanic island
20
Spaced Out
25
Sapphire: 3:06.20
Gold: 2:49.30
Platinum: 2:30.90
Outer space
21
King Too Uncommon
91
Sapphire: 0:58.40
Gold: 0:53.10
Platinum: 0:50.70
Egyptian
Boss fight: N. Trance
Egyptian, Volcanic island
Area 5
22
Wild Nile Ride
97
Sapphire: 1:24.60
Gold: 1:16.90
Platinum: 0:45.90
Egyptian
23
101 Arabian Kites
64
Sapphire: 1:52.10
Gold: 1:41.90
Platinum: 1:06.70
Arabian
24
Fire Walker
115
Sapphire: 1:38.60
Gold: 1:29.60
Platinum: 1:20.50
Volcanic island
Boss fight: N. Tropy
Arabian, Egyptian, Volcanic island
Gallery
[
edit
]
For this subject's image gallery, see Gallery:Crash Bandicoot 2: N-Tranced.
Names in other languages
[
edit
]
Language
Name
Meaning
Japanese
クラッシュ・バンディクー アドバンス2 ぐるぐるさいみん大パニック!?
Kurasshu Bandikū Adobansu 2: Guruguru Saimin Dai Panikku!?
Crash Bandicoot Advance 2: Round and Round Time See Panic?!
References
[
edit
]