Crash Team Racing (2010)
From Crash Bandicoot Wiki
Jump to navigation
Jump to search
It has been requested that additional images be uploaded for this article. Remove this only when the image(s) have been uploaded for this article.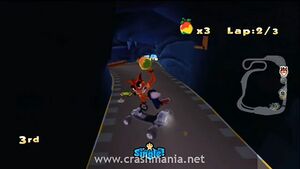 Crash Team Racing was the working title of a canceled Crash Bandicoot racing game. Its title was identical to the 1999 PlayStation game, Crash Team Racing. The game was being developed by High Impact Games for the PlayStation 3, Xbox 360, and Wii, but it was canceled in early 2010 for unknown reasons. Crash Team Racing was meant to accompany the release of Crash Landed, a game from Radical Entertainment that also ended up being canceled.
External links
This article is a stub. You can help the Crash Bandicoot Wiki by expanding it.