There are currently 114 stubs. You can help us by expanding these articles!
Xbox 360
From the Crash Bandicoot Wiki, the Crash Bandicoot encyclopedia
Jump to navigation
Jump to search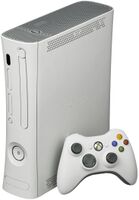 The Xbox 360 is a home console released by Microsoft in 2005. It is the successor to the Xbox.
Two Crash Bandicoot games were released for Xbox 360, both of which had a multi-platform release. Another game, Crash Bandicoot: The Wrath of Cortex, was re-released via Xbox Live in December 2007.