There are currently 114 stubs. You can help us by expanding these articles!
PlayStation 2
From the Crash Bandicoot Wiki, the Crash Bandicoot encyclopedia
Jump to navigation
Jump to search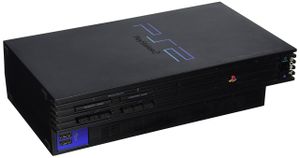 The PlayStation 2 is the successor to the PlayStation that was released in 2000.
Six Crash Bandicoot games were released for the PlayStation 2 and a compilation named Crash Bandicoot Action Pack.