There are currently 114 stubs. You can help us by expanding these articles!
Nintendo Switch
From the Crash Bandicoot Wiki, the Crash Bandicoot encyclopedia
Jump to navigation
Jump to search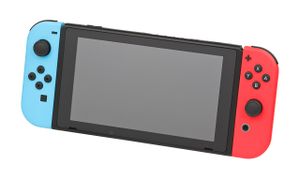 The Nintendo Switch is a hybrid console released by Nintendo in 2017. Although primarily marketed as a home console, the Nintendo Switch is notable for the fact that it can also be used as a handheld.
Three Crash Bandicoot games were released for the Nintendo Switch. The first two are Crash Bandicoot N. Sane Trilogy and Crash Team Racing Nitro-Fueled, both of which are remakes of earlier Crash Bandicoot games. In March 2021, Crash Bandicoot 4: It's About Time released for the Switch as well.