There are currently 114 stubs. You can help us by expanding these articles!
PlayStation Portable
From the Crash Bandicoot Wiki, the Crash Bandicoot encyclopedia
Jump to navigation
Jump to search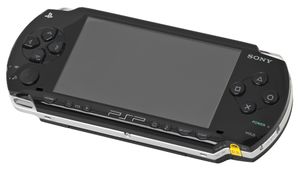 The PlayStation Portable is the first handheld released by Sony, and it was first released in 2004.
Three Crash Bandicoot games were released on the PlayStation Portable, but are also available on other consoles: Crash Tag Team Racing, Crash of the Titans, and Crash: Mind over Mutant. The original five PlayStation games available through the PlayStation Network, just like PlayStation 3.