From 18:00 Jan 23 to 00:00 Jan 24 NY Time (6 hrs), Grifkuba sites will experience flaky behavior, including short periods of downtime. Reading and light edits should be fine, but save all work and avoid heavy edits.
PlayStation Portable
From the Crash Bandicoot Wiki, the Crash Bandicoot encyclopedia
Jump to navigation
Jump to search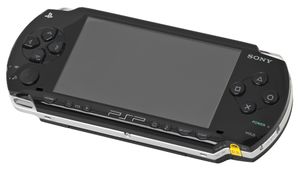 The PlayStation Portable is the first handheld released by Sony, and it was first released in 2004.
Games
Three Crash Bandicoot games were released on the PlayStation Portable, but are also available on other consoles: Crash Tag Team Racing, Crash of the Titans, and Crash: Mind over Mutant. The original five PlayStation games available through the PlayStation Network, just like PlayStation 3.