There are currently 114 stubs. You can help us by expanding these articles!
Nintendo DS
From the Crash Bandicoot Wiki, the Crash Bandicoot encyclopedia
Jump to navigation
Jump to search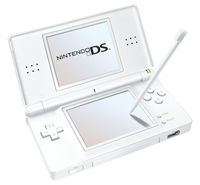 The Nintendo DS is a handheld console that was first released in 2004. Its remodels are the DS Lite (which first released in 2006), the DSi (which first came out in 2008) and the DSi XL (which came out in 2009). Its successor is the Nintendo 3DS and its predecessor is the Game Boy Advance. The original DS and the DS Lite are backwards compatible with all Game Boy Advance games. Similarly, the 3DS is backwards compatible with DS games.
Three Crash Bandicoot games were released for the Nintendo DS: Crash Boom Bang!, Crash of the Titans, and Crash: Mind Over Mutant. Of the three, Crash Boom Bang! is the only game that was exclusively released for the DS. There are two cancelled Nintendo DS games, Crash Tag Team Racing and Crash Landed, both of which are multi-platform releases, although Crash Landed was cancelled entirely.
Console gallery
[
edit
]