There are currently 114 stubs. You can help us by expanding these articles!
Crash Bandicoot Worlds
From the Crash Bandicoot Wiki, the Crash Bandicoot encyclopedia
Jump to navigation
Jump to search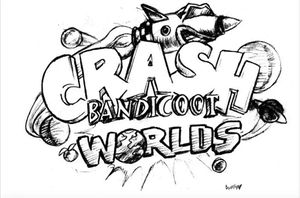 Crash Bandicoot Worlds is an early concept for a Crash Bandicoot game. It was likely conceived in 1999, as suggested by a timestamp on concept art for the game's logo. It was at a time when Universal Interactive Studios wanted the series to transition to the sixth generation of gaming consoles. Crash Bandicoot Worlds was planned to be distributed by Sony Computer Entertainment as a PlayStation 2 exclusive. The company considered Mark Cerny as the game designer. According to Mark Cerny, the game would have featured open world exploration, unlike the linear style of the first three adventure games. Crash Bandicoot Worlds would have likely featured interplanetary travel, as suggested by the planets surrounding the logo.
Crash Bandicoot Worlds was scrapped around the time when Universal tasked Traveller's Tales to create a new Crash Bandicoot game, because Universal's contract with Naughty Dog expired. The game had a 12-month development period, and it was released as Crash Bandicoot: The Wrath of Cortex. During development, Universal was worried about a different development studio handling the franchise, so contrary to Mark Cerny's vision with Crash Bandicoot Worlds, Universal made it so that Crash Bandicoot: The Wrath of Cortex would retain the linear style of the first three Crash Bandicoot games. Open world exploration was only included in the follow-up, Crash Twinsanity.
External links
[
edit
]