There are currently 114 stubs. You can help us by expanding these articles!
Wumpa Island
From the Crash Bandicoot Wiki, the Crash Bandicoot encyclopedia
Jump to navigation
Jump to search
It has been requested that this article be rewritten and expanded to include more information.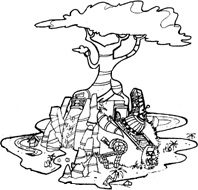 Wumpa Island is the titular island of the Wumpa Islands archipelago, which also consists of N. Sanity Island and Cortex Island. Not much is known about this island, except that is littered with dated ruins and contains a lava cave below it, where a mine was located in Crash Bandicoot; it is unknown whether this mine still operates today. Also notable is the colossal tree located in the middle in which was the Uka Uka's lair and the tall waterfall that stems from a large tiki head where Ripper Roo was fought in first game.
Wumpa Island was originally to be included in Crash Twinsanity, and would've played two major roles in the game. The first made use of the gigantic tree, where Nina Cortex, Neo Cortex's niece, would use her abilities to swing and climb to the top of the tree (for reasons unknown). The second level would've also involved the ancient temples below, in which the Komodo Brothers built a racetrack, which Crash and Cortex would have to complete in a brakeless vehicle (in a parody of the video game Out Run).[1]
References
[
edit
]