There are currently 114 stubs. You can help us by expanding these articles!
Grand Prix
From the Crash Bandicoot Wiki, the Crash Bandicoot encyclopedia
Jump to navigation
Jump to search
It has been requested that one or more images be uploaded and added to this article. Remove this template once the image(s) has/have been uploaded and applied.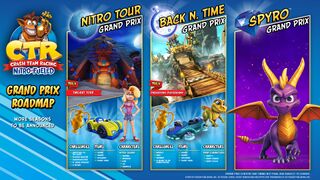 The Grand Prix was a series of eight limited time post-release special events in Crash Team Racing Nitro-Fueled. Each of them lasted for a month and spanned from July 2019 to March 2020. After the final Grand Prix, an update titled Post-Grand Prix was released to add back any Grand Prix-exclusive content, and it also included some new content.
Every Grand Prix had one or two themes. They each introduced one race track, an assortment of characters, and skins and kart customizations that could be unlocked from the Pit Stop or through Nitro Points. Every Grand Prix-related announcements were done from CTR TV. A scrolling text banner also appeared on the main menu, informing players about the "track of the day", "daily star" and the new race track.
The Grand Prix menu showed information on their Nitro Gauge and a list of challenges that could be done for extra Nitro Points. This menu could be accessed through the main menu in the Grand Prix button.
During a Grand Prix, players filled their Nitro Gauge across three tiers - Bronze, Silver and Gold - through the completion of challenges. Collecting Nitro unlocked items such as stickers, kart sets and decals, a new character and character skins as the gauge filled up.
Players would compete in up to two leaderboards: the Championship Leaderboard, which ranked players according to their performance in Online Matchmaking mode, and the Nitro Leaderboard, which ranked players based on their acquired Nitro Points. At the end of a Grand Prix, every player who ranked in the top 5% of either leaderboard received a season decal for the Champion Kart.
Name
Duration
Track
Character(s)
Skin(s)
Kart(s)
Wheels and/or paint job
Other additions
Themes
Nitro Tour
July 3, 2019 -
July 28, 2019
Twilight Tour
Tawna, Ami, Megumi, Liz, Isabella
Bandibuggy, Rocket, Le Chaux
Twilight Wheels
Country Flag stickers1, Velo Invincibility Mask
Nitro Tour was themed around a racing world tour with the Nitro Squad, as well as Egypt/Arabia.
Back N. Time
August 2, 2019 -
August 25, 2019
Prehistoric Playground
Baby Crash, Baby Coco, Baby T
Nostalgianator, Mammoth, Probulot 2000
Lava Rock Wheels
Nitro Fill-Up option after the end of the Grand Prix
This Grand Prix was themed around time travel, predominantly to a prehistoric time affected by Fake Crash, but also featuring childhood and futuristic elements.
Spyro N. Friends
August 30, 2019 - September 29, 2019
Spyro Circuit
Spyro the Dragon, Hunter, Gnasty Gnorc
Gnasty Ride, Dragonfly, Spyromobile
Elemental wheels, Gems paint jobs
Sparx Invincibility Mask
This Grand Prix is themed after the main Spyro the Dragon series.
Spooky
October 4, 2019 - November 3, 2019
Nina's Nightmare
Komodo Moe, Dr. N. Brio, Nina Cortex
Skull Rider, Phantom, Nautilus
Spectral wheels, Spectral paint jobs
Ghosts Chase1, RetroVision stickers
This Grand Prix was themed around villains and Halloween.
Neon Circus
November 8, 2019 - December 8, 2019
Koala Carnival
Koala Kong, Pasadena O'Possum, Ebenezer Von Clutch, King Chicken
Nitro Bumper Kart, Pressurizer, Daredevil
Neon Wheels, Neon paint jobs
Ring Rally Mode
Neon Circus is themed after circuses and carnivals.
Winter Festival
December 12, 2019 - January 12, 2020
Gingerbread Joyride
Rilla Roo, Yaya Panda, Hasty, Chick, Stew

Reindeer Crash
Elf Coco
Ugly Sweater Polar
Arctic Nash
Winter Tawna
Monster PJ Baby Crash
Rabbit PJ Baby Coco
Winter Guardian Spyro
Blizzard Rider Hasty

Nitro Sleigh, Snowplower, Candy Cone
Pastry Wheels, Pastry paint jobs
None
This Grand Prix is themed around Christmas and candies.
Rustland
January 16, 2020 - February 16, 2020
Megamix Mania
Megamix

Rustland Crash
Rustland Cortex
Rustland Tiny
Rustland Coco
Rustland N. Gin
Rustland Dingodile
Rustland Polar
Rustland Pura
Rustland Nina
Rustland Megamix

Desert Duster, Dusty Rider, The Nuke
Tag Wheels, Rustland paint jobs
Permanent Country Flag stickers, Golden Wumpa Fruit, Apo-Apo Invincibility Mask
This Grand Prix was themed on a post-apocalyptic desert world.
Gasmoxia
February 20, 2020 - March 22, 2020
Drive-thru Danger
Emperor Velo XXVII

Privateer Tawna
Buccaneer Ami
Raider Megumi
Corsair Liz
Marauder Isabella
Space Spyro
N. Brioctopus
Astronaut Kong
King Space Chicken
Captain Velo XXVII

Velo Chopper, Void Manta, Galactic Cruiser
Atomic Wheels, Atomic paint jobs
Velo Time Trial times
This Grand Prix was themed on science-fiction and a fast-food war above Gasmoxia.
Post-Grand Prix
Starting March 26, 2020
N/A
Lab Assistant, Baby Cortex, Baby N. Tropy, Fixed Rilla Roo, Iron Checkpoint Crate

Alice Coco
Gentleman Penta
Bedtime Ripper Roo
Beenox Robot Geary
Knight Lab Assistant
Lumberjack Lab Assistant
Prince Lab Assistant
Three Legendary recolors for Crash Bandicoot, Doctor Neo Cortex, Tiny Tiger, Dingodile, Polar, Pura, Pinstripe, Fake Crash, Crunch Bandicoot, Tawna, Nina Cortex and Koala Kong

The Cog, Neon Hawk, Nitro GT
Beenox, Master, Bronze Trophy, Silver Trophy and Gold Trophy
Developers Time Trial times
This update was themed around Beenox's brand colors as thanks to the game's community while also introducing for the first time recolors of Legendary-tiered skins.
1 - Removed in the next Grand Prix but later added back in Post-Grand Prix

Gallery
[
edit
]